LIVE RECORDINGS - BEAT THE BOOTS
When Zappa was invited to join The Soul Giants in 1965, shortly thereafter renamed as The Mothers, he already had some ten years' experience of being on stage. He loved to have his music performed in front of an audiance and felt completely at ease in its presence, often making little speeches to the people present or inviting them to interact during various stage events. A distinctive feature during Zappa's career is the importance of live recordings. About half of his output is made up of tracks recorded live. From the start he would try out new songs on stage as much as in the studio. Up to half of a shows program could be new songs. Something most pop artists don't dare, since it is known that the people coming to a concert prefer to hear songs they already know. Zappa's audiences were accessible for this.

The concert program can be reconstructed thanks to the many releases by Zappa himself and some CDs by the ZFT, that did some good work in filling in some of the gaps Zappa left behind. Secondly there's a bootleg circuit of over a hundred concerts. Zappa's own opinion about bootlegs can be clear via the Beat the boots section. By counter-releasing some 15 bootlegs himself he assured that he would get the better part of its market. Whatever excuses people copying and trading bootlegs and other material may find, I'm not a saint myself, it remains illegal. I recently encountered a pdf file of published transcriptions of a Zappa album, hopefully gone or forced to go by now. It's nice for some to get it for free this way, but it undermines the possibility of getting transcriptions of Zappa's music commercially published. The positive thing about the work by some of the bootleg collectors however is that they help in filling in the Zappa history. Admittedly, in some cases, when there's no copy in Zappa's own archives, bootlegs or other types of private copies can contain unique material. The Mount St. Mary concert has been kept this way. I'm not a bootleg collector myself by the way, nor allows the copyright convention examples from unofficial sources.

The following books and sites are about the concert program:
- Greg Russo. Cosmic Debris, section 13. Crossfire Publications, New York 2006.
- Charles Ulrich's site. It includes a codes list of sources that confirm each show, like ticket stubs and press reviews. Assuming that it's all correct, this may very well be the most reliable source
- The FZ shows homepage. Created by Jon Naurin, maintained by Oscar Bianco.
- Frank Zappa giglist. Maintained by Kevin Boynton & Mick Peterson.
- Rino's venues list. Maintained by Rino Wol (nice lay out, content apparently copied and not maintained anymore).

BEAT THE BOOTS


The systematic bootlegging of Zappa's concerts had been an annoyance for him for quite a while. Zappa even informed the FBI about it. In 1991/2 he decided to counterattack by making a deal with Foo-eee records to release two sets of them as "Beat the boots I" and "II", thus spoiling the bootleg market. The CDs of the first set were also sold individually, the second set was only available as a box (photo to the left, anonimous ebay posting). Both were distributed in limited supplies and aren't available in stores anymore. The CDs were replicas of the original bootleg albums, including the poor sound quality and cheap covers. At the backside the CDs had a hand with a hammer symbol on it as well as a little rhinoceros with a clothespin on his nose.
Because of the lousy sound quality and the numerous regular live compilations, mentioned in the You can't ... section, the additional value of these bootlegs is low. Some of them are more interesting from a historical point of view. The "Fire!" bootleg for instance covered the Montreux concert of 1971, when the concert hall burnt down. When the start of fire was noticed, we can hear Zappa asking everybody to stay calm and quietly go to the exit. Apparently there was no panic and the bootlegger followed the rest with his tape recorder. This one also includes "Sofa" in combination with "Stick it out", which explains the original intention of "Sofa", first to appear on "One size fits all", and also why this song as well as "Stick it out" on "Joe's Garage" is partially in German.

Zappa left the work of selecting and listening to the bootlegs to assistants, nor did he feel any responsibility for the content of the CDs. It was just the most effective way of getting back at the bootleggers. The CDs from the two "Beat the boots" volumes are listed in the section below as BTB I and II. Included are the four midi files from this series. See the main menu for their transcriptions.

Without giving any publicity to it, the ZFT made a third series of six "Beat the boots" volumes available via amazon.com and i-tunes. Since 2009 they can be downloaded as mp3 files. The series didn't get much attention in the Zappa community neither, because the material stems from some of the better known bootlegs with historical material on them that many fans already owned. Still this release can be considered a minor break-through as it comes to making some of the more important bootleg recordings legally available. One of the included tracks for instance is the 1984 orchestral performance of "Sinister Footwear".


THE TOURING YEARS RELATED TO RELEASED LIVE RECORDINGS

Next is a general overview of the officially released CDs from the various tours. It's quite comprehensive as it is and covers most of the program. With the massive amount of tapes in Zappa's vault and the ZFT releases over the past years it will probably keep growing.

1965-1966

In 1965 the Mothers were playing in smaller clubs in the L.A. environment wherever they could. Zappa's initiative to play his compositions instead of only covers made life difficult. Two people were coming to aid. First Herb Cohen became interested in managing them, opening his connections for better stages to them. Secondly MGM agent Tom Wilson attended a Mothers concert at the end of 1965. With some demos and his personal faith he convinced MGM to sign a contract with the Mothers for five records. The first was to appear in the summer of 1966. Live recordings from 1965 and 1966 are relatively rare. The 1965 tapes are in a bad condition, nor are the 1966 recordings high tech. The first available Mothers concert that's more than some excerpts is the one they gave at the Fillmore West in 1966 as the opening act for Lenny Bruce. You'll have to go out of your way to get it together. Spread out over various CDs (including the 4 CD "MOFO" set) some 8 songs from this concert have become available. On "YCDTOSA Vol. V" for "The downtown talent scout", attributed to 1965, Zappa in all likelihood miswrote himself for the year.

Released:
- The mystery disc: 4 tracks
- YCDTOSA V: 1 track
- ZFT: Joe's corsage: 3 tracks
- ZFT: MOFO 2 CD set: sampler; 4 CD set: 5 tracks

1967

In the spring of 1967 Zappa moved to New York, where the Mothers became booked as the steady band for weeks in a row at the Garrick theatre. It was a small 300 seat movie hall in Greenwich Village, near to where Zappa and Gail had rented an apartment. The shows went under the title "Pigs and repugnant". Here the Mothers could practice the large amount of material they would record at the years end and develop various stage acts. Zappa wanted to do a live album from the Garrick performances, but MGM wasn't interested. There is a lot of footage however (without sound). Zappa had contacted Ed Seeman to film the Mothers, among others to prepare material for the Uncle Meat movie he had in mind. 14 hours of film over the period 1967-69 resulted. Ed himself compiled a 60 minute documentary, called "Frank Zappa & the original Mothers of Invention, 1967-1969" from the footage. It can be ordered via http://www.edseeman.com/zappa/. Zappa bought all the film and used parts of it for "Uncle Meat", whereas the ZFT included a section on the "Overnite sensation/Apostrophe (')" DVD. Most is still unused in Zappa's vault.
During the fall the first European tour took place, a small one doing some cities in the U.K., Holland and Scandinavia. Here you get to the first live recordings to be incorporated in albums, like the saxophone solo Ian Underwood played in Copenhagen. It's also from this tour that a semi-official bootleg gives insight of how an early Mothers concert could be. The bootleg was taken over from a radio broadcast of a Mothers' show, so the sound quality isn't that bad. They were still doing covers and songs from "Freak out", but you can also hear the appearance of medleys and "King Kong", a song to be included in almost every coming tour. "King Kong" allowed the band to improvise.

Released:
- Uncle Meat: 3 tracks
- BTB I: 'Tis the season to be jelly

1968-1969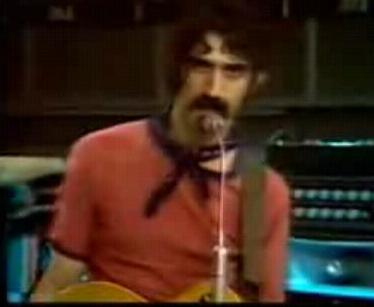 In 1968 the Mothers had become a successful live act. They could get rid of most of the covers and more and more started to play their recent, often still unreleased music in the form of suites or larger medleys. A 20-minutes piece could start up with a theme from one of the albums, followed by a solo, next a recently composed new theme, more solos etc. It's from the years 1968-1969 that most of the sixties live recordings stem, and it's a lot more this time. There's also footage in the form of the 1968 Albert Hall concert, filmed for the "Uncle Meat" movie. It's "soundtrack" on CD as "Ahead of their time" is the first official live registration of a Mothers concert. Next there's the Berlin concert, included in the short "Burnt weeny sandwich" documentary. The band had become bigger every year. Whereas the Mothers had started as a five member rock group, in 1969 they were a 10 piece band with brass and wind instruments, working on a contractual basis with a regular income. Halfway through 1969 Zappa had seen enough of it and decided to disband the Mothers in this form. Though only Roy Estrada and Jimmy Carl Black were its permanent members (apart from Zappa himself), the sixties Mothers band is by many fans and especially the critics seen as the authentic and most original one. To the right: FZ at a BBC special, 1968.
Since the break-up the relationship with the ex-mothers could sometimes be at ease - on various occasions they would work with Zappa again for a particular project - sometimes under strain about royalties. Zappa wasn't that inclined to release much from the sixties on "YCDTOSA", disc I of vol. V. being more a collection of oddities than an average concert registration. Various gigs were recorded, since he was thinking about a live Mothers album at the time, so it's thinkable that more is coming up. If the better parts of the bootlegs were put together on one CD with normal sound quality you'd have an interesting album.
There is some unreleased material on the sixties bootlegs. The most interesting section is a piece of modern music, that Zappa calls "Some ballet music" on "The ark". In this case the bootleggers released something that Zappa was thinking about releasing himself (he had informed the audience that he was taping the concert, considering a live album). Then there a two songs, "No matter what you do" on "'Tis the season to be jelly" and "Whät" on "Electric aunt Jemina". Both sound familiar, so they probably are made up of traditional material from Zappa's fifties single collection he arranged and/or to which he added things. The "big tits" punch line on "No matter what you do" is undoubtedly Zappa. The sound quality on these bootlegs is listenable and "Electric aunt Jemina" is done pretty well. "Our man in Nirvana" includes a "King Kong" version of over half an hour (at the end it's faded out). The Mothers at that time had various members who would play solos and by alternating them you could get such long improvisations.

Released:
- Ahead of their time/Uncle meat movie
- YCDTOSA I: 3 tracks; IV: 3 tracks; V: disc 1
- The mystery disc: 6 tracks
- Burnt weeny sandwich: sections
- Weasels ripped my flesh: sections
- ZFT: Road tapes, venue #1
- ZFT: Finer moments: 7 tracks
- BTB I: At the Ark (1969)
- BTB II: Our man in Nirvana (1968)
- BTB II: Electric aunt Jemina (1968)
- BTB III disc II: 1 track; IV: 2 tracks; V 3 tracks

1969-1970

After disbanding the Mothers Zappa was without a regular band. In the autumn of 1969 and winter of 1970 he did a handful of concerts with the "Hot Rats" session musicians as "Zappa and friends". He spent most of his time working on film scripts and scores. "Captain Beefheart vs. the Grunt people" got written out in full, "Uncle Meat" was still unfinished and the music for "200 Motels" was to be orchestrated. An opportunity for a one time performance was offered by the L.A. Philharmonic, in combination with a rock band. Zappa was able to persuade the ex-Mothers for a small reunion tour, leading to this concert, but not for having them all participate in the Uncle Meat shooting. Don Preston would take the major part of the instantly rewritten script. Union regulations ruled out that Zappa was allowed to record the concert (a bootleg seems to exist however). No live recording from this intermission year have thus far appeared in the official catalogue. From 2009 onwards however, two tracks can be downloaded as part of the "Beat the boots" series.

Released:
- BTB III disc I: 2 tracks

1970-1971

In the summer of 1970 the contours for a new band were set. Ian Underwood had never gone. With George Duke a second educated keyboard player had arrived. Zappa had met Aynsley Dunbar in 1969, a natural talent behind the drums. He didn't read scores but made the drumset sound as if there were two drummers playing. When Flo and Eddie decided to join the band the vocals were taken care off. In effect Zappa thus liked their vocal capacities, that he started to write specific episodes for them, that were to become the core of the shows. In following order the little plays they performed became The groupie opera ("Fillmore East"), "Billy the Mountain" ("Just another band from L.A.") and the "Sofa" suite. The last set of songs used to be spread out over various official recordings, as a sequence only present on the "Fire!" bootleg till the ZFT released "Carnegie hall" in 2011. In its content it's blasphemous and Zappa may have thought that putting it on record this way could have got him in trouble again as in 1965.
The band played for one and a half year, only to end rudely and abruptly because of a member of the audience throwing Zappa off stage. The coverage of this period is huge. Not only because Zappa now choose for recording much new material live, also because 5 of the 15 Beat the boots CDs are from these two years. The setlist is less immense as this quantity might suggest. There's already an overlap of titles in the official CDs. Most of this official material is from 1971. Zappa only started recording with a record in mind in June. The groupie routine however was already full on its way a half year before as the two December 1970 bootlegs show.

Occasionally you can encounter a solo that worked out well on the bootlegs, like the one below from "Call any vegetable". It can be found on the "Freaks and motherfu*#@%!" bootleg, recorded at the Fillmore East in 1970.

Call any vegetable solo (1970), opening (midi file)

At the end of this CD there's a vocal version of "Holiday in Berlin", followed by a theme later included in "Inca roads" and another successful solo. These parts segue, as Zappa often does with his songs. The "Tengo na minchia tanta" bootleg was recorded at the same concert, also including this section, and is of a better sound quality.

Released:
- Chunga's revenge: 1 track
- Fillmore East, June 1971
- Just another band from L.A.
- Playground psychotics
- YCDTOSA I: 4 tracks; III: 1 track, VI, 3 tracks
- The true story of 200 Motels: some footage
- ZFT: Carnegie Hall
- ZFT: Finer moments: 2 tracks
- ZFT: Road tapes, venue #3
- BTB I: Freaks and motherfu*#@%! (1970)
- BTB II: Tengo na minchia tanta (1970)
- BTB II: Disconnected synapses (1970)
- BTB II: Swiss cheese/Fire! (1971, 2 CDs)
- BTB II: At the circus: 2 tracks
- BTB III disc II: 2 tracks


The "Disconnected synapses" bootleg stems from a 1970 concert in Paris, broadcasted in 1971 (still to the left). It includes a variation upon the theme from "Who are the brain police" from "Freak out!", followed by a smaller guitar solo. This specific track opens with a four times repeated rock bar. The same was done for the 1971 versions of "Dog breath" en "Call any vegetable", to be found on "Just another band from L.A."

Brain police variation (1970), theme (midi file)

Of the five bootleg CDs the sound quality of "Tengo na minchia tanta" is pretty good, up to the point that it offers an alternative version for Zappa's own "Fillmore East" album. "Freaks and motherfu*#@%!" is inferior to the previous one. The other two are dim. "Swiss cheese/Fire!" were two albums from the same show, the infamous Montreux concert, where the hall burnt down.

1972

Zappa assembled his 1972 jazz band via advertising among session musicians. It included not only the recording of the pieces he had written after his forced stay at home, but also a short tour. The musicians were mostly strangers to each other and made Zappa frown when they started playing chess while on the road. Touring started with a 20-piece band doing some concerts in Europe and the U.S., followed by 20 concerts in Canada and the U.S. with a band reduced to 10 members. They were promoted as The Mothers of Invention, but have become known as the Grand and the Petite Wazoo band. For decades this live band was only known via bootlegs. The above mentioned Charles Ulrich apparently lobbied the ZFT with success to get this material officially released. It became "Imaginary diseases" where he gets credited in the liner notes for his effort. This one contains tracks from the Petite Wazoo tour, for which Zappa had written a mostly new program, thus not coinciding with "Waka/jawaka" and "The grand wazoo". The larger part of the material for the Grand Wazoo got released in 2007 on a double CD, simply called "Wazoo". The ZFT has just started the selling of the CD "One shot deal" with another solo from the tour.

Released:
- ZFT: Imaginary diseases
- ZFT: Wazoo
- ZFT: One shot deal: 1 track
- ZFT: Little dots

1973-1974

At the end of 1972 the Wazoo band was disbanded as planned. In December Zappa returned to his earlier comrades Ian and Ruth Underwood, George Duke and Jean-Luc Ponty and added some new members to form what generally has become known as the Roxy band. Three early studio recordings with this band have appeared on "The lost episodes". Touring started in 1973 in the U.S., next Australia for the first time, Europe, and back to the U.S. for the fall tour. As more often Zappa waited several months before starting to record for a live album, so that the material would be well rehearsed. This time he chose the three December concerts at the Roxy club in L.A. to record most of the tracks for "Roxy and Elsewhere". Ian Underwood and Jean-Luc Ponty had left by then. Touring continued for the whole of 1974 with a repertoire that remained basically the same, whereas songs for One size fits all would be gradually developed. Since both Zappa and the fans enjoyed this band a lot, much more would be released in the eighties from the 1974 concerts. The complete concert the Mothers gave in September 1974 in Helsinki became vol. II of YCDTOSA. Footage exists in the form of the studio concert at KCET (half of The dub room special) and the recently released Roxy DVD with material from the film reels of the four concerts at The Roxy. In 2014 the ZFT gave this period much extra attention by releasing the A token of my extreme TV-special, material from the 1973 Helsinki concerts and a second CD with recordings from the Roxy gigs.
The two bootlegs are of some (historic) interest as well. "Piquantique" stems from a Swedish TV show, so theoretically it could ever show up with normal sound quality. It's the only available CD still to include Jean-Luc Ponty. Next is a section from the Be-bop tango version on this CD.

Farther O'blivion: the be-bop tango (Piquantique, 1973), section, 13:56 through 14:36 (midi file)

"Unmitigated audacity" is from the 10th anniversary concert, when the Mothers did a one time performance of a series of "Freak Out!" songs. It does little more than confirm that this event took place. The sound quality is even for bootlegs substandard.

Released:
- Roxy and elsewhere
- YCDTOSA I: 4 tracks; II: 2 discs; III: 1 track; IV: 3 tracks; VI: 1 track
- The dub room special: KCET tracks
- One size fits all: some basic tracks
- The true story of 200 Motels: some footage
- A token of my extreme
- ZFT: FZ plays the music of FZ: 1 track
- ZFT: One shot deal: 2 tracks
- ZFT: Penguin in bondage: 1 track
- ZFT: Road tapes, venue #2
- ZFT: Roxy by proxy
- ZFT: Roxy, the movie (CD/DVD)
- BTB I: Piquantique (1973)
- BTB I: Unmitigated audacity (1974)
- BTB III disc V: 6 tracks

April-May 1975

When Captain Beefheart was without a record contract in 1975, he came knocking on Zappa's door, willing to forget the accusations he had made in the press since their last collaboration in 1969 for "Trout mask replica". Zappa decided to go on the road with Beefheart for a small tour of some 20 concerts in the U.S. The two concerts in Austin, Texas, near the end of the tour provided most of the material for "Bongo Fury". Some overdubs and studio recording were added to complete the album with unreleased material. For this little tour "Bongo Fury" is the main entrance, one other track is present on "YCDTOSA" and nothing is included in BTB. At the end of the tour Zappa and Beefheart were again growing apart. The financing of the latters "Bat chain puller" album became the reason for the break between Zappa and his manager Herb Cohen. This time Beefheart didn't initiate an open rift and has kept himself low profile ever since as it comes to Zappa.

Released:
- Bongo Fury
- YCDTOSA IV: 1 track

Fall 1975 - Spring 1976

During the fall of 1975 Napoleon Murphy Brock was the only remaining member of the Roxy band. George Duke had started a successful solo career and Ruth Underwood would make occasional contributions. When the formation of a new larger band didn't come off rapidly, Zappa decided to go on the road with a core of five musicians, the smallest number he deemed necessary for playing his music. It changed the repertoire as well as the sound drastically, with Zappa taking care of a lot of the parts on guitar himself. At first this tour only contributed on record for the "Black napkins" guitar solo to be found on "Zoot allures". This would change completely by the release of "FZ:OZ" by the ZFT with the almost complete concert held at the Hordern Pavilion, Sydney, Australia. This tour included the bands only visit to Japan, good for some solos on record and CD. It explains the Japanese characters on the Zoot allures album cover. Exceptional was also the one time visit to Yugoslavia with two shows in November. The "FZ plays the music of FZ" includes one track from the Ljubljana concert.

Released:
- Zoot allures: 1 track
- YCDTOSA III: 2 tracks; VI: 1 track
- Shut up 'n play yer guitar: 1 track
- ZFT: FZ:OZ
- ZFT: FZ plays the music of FZ: 2 tracks
- ZFT: AAAFNRAA: 1 track
- ZFT: Joe's menage

Fall 1976 - Winter 1977

For the fall tour of 1976 Zappa changed personnel and complicated new material entered the setlist. For a month Bianca Odin (aka. "Lady Bianca" Thornton) formed part of the band as a keyboard player next to Eddie Jobson. She was good looking and apparently got fed up by sexist remarks thrown in her face by the audiences, only to appear on 1 track from "YCDTOSA Vol. VI" on Zappa's own CDs. "Philly '76" would change that drastically. In November Zappa did one of his two guest appearances at the Saturday night live TV show. Of the three songs the band played that night I'm the slime is present on the "Overnite sensation/Apostrophe(')" DVD. Next the band took a break of a month to prepare for the four New York concerts of December. The band got augmented with seven members, just for this occasion, being six brass players and Ruth Underwood. Understandably, most released tracks are from these New York gigs. Nearly two hours of these shows are present on "Zappa in New York", with one track on YCDTOSA vol. VI. Touring continued in Europe, winter 1977. For most of the dates the band played as a five piece group again; two medleys in this set up form the "Conceptual continuity" bootleg.

Released:
- Zappa in New York/Läther
- YCDTOSA I: 1 track; VI 2 tracks
- Shut up 'n play yer guitar: 1 track
- ZFT: Overnite sensation/Apostrophe(') DVD: 1 track
- ZFT: Philly '76
- BTB II: Conceptual continuity (1976)

Fall 1977 - 1978

This was the tour providing the basic tracks for "Sheik Yerbouti" with Zappa taking a leap regarding production techniques and sound quality. His second film for the cinema, "Baby snakes", was build up around the November Halloween shows at the Palladium in New York. Originally it was only shown on a few locations, remaining unknown to the majority of fans. Things got better with the video and DVD releases. Today "Baby snakes" offers the most complete and most varied concert registration on film. Most official recordings from 1977 are on these two sources. Meanwhile Zappa was at war with Warner Bros. and without a record contract, so fans would have to wait till 1979 for new material.
For the fall tour of 1978 Vinnie Colaiuta replaced Terry Bozzio as drummer, otherwise things remained basically the same. Till recently little was available from this specific tour, with the ZFT jumping in the gap with their 2003 "Halloween" audio DVD. It features a lengthy "Black napkins - The deathless horsie" solo with Shankar as a guest player on violin.

Released:
- Sheik Yerbouti: basic tracks
- Baby snakes
- YCDTOSA IV: 2 tracks; VI 7 tracks
- Trance-fusion: 1 track
- ZFT: Halloween
- ZFT: FZ plays the music of FZ: 1 track
- ZFT: One shot deal: 1 track
- ZFT: Hammersmith Odeon
- ZFT: AAAFNRAAAA: 1 track
- ZFT: Chicago '78
- BTB I: Saarbrücken (1978)
- BTB II: At the circus (1978)
- BTB III disc I: 4 tracks


The "Saarbrücken" and "At the circus" bootlegs were recorded shortly after one other, the latter derived from a show, twice broadcasted on German TV (still to the right). From that perspective the sound quality of "At the circus" is disappointing. It does include two amusing events though ("Seal call fusion music" and "I'm on duty"). "Saarbrücken" is better palatable and offers more tracks. Next is the opening and a section of the guitar solo from "Conehead" from that CD. See the Baby snakes section of the main menu for comment and a transcription.

Conehead (1978), opening bars (midi file)
Conehead (1978), solo fragment (midi file)

Spring 1979 & 1980

Touring continued in 1979 in Europe. The three Odeon Hammersmith concerts in London were of specific importance, for here the basis for "Shut up 'n play yer guitar" was laid. The "Anyway the wind blows" bootleg from the Paris gig shows why Zappa came to hate some of the bootleggers that much. It was professionally done including stereo. After a minute or two you get accustomed to the lesser sound quality. This one premiered several tracks that Zappa himself released in 1981.
Next the recording of the triple album Joe's garage was on the program. It used some solos from the last tour with newly recorded studio accompaniment and no crowd noise, so you won't notice their origin. With all this work and the ongoing litigation, Zappa skipped the U.S. fall tour.
He reassumed touring in March 1980 in the U.S., followed by Europe, and, after a three months break, back in the U.S. for the last three months of 1980. With more contractual freedom than before, Zappa now contemplated boxes with live recordings, as he had wished earlier. It became a triple guitar solo box and a double album.

Released:
- Tinsel town rebellion
- Shut up 'n play yer guitar
- YCDTOSA I: 4 tracks; IV: 2 tracks; VI: 8 tracks
- Guitar: 2 tracks
- Trance-fusion: 1 track
- You are what you is: Sinister footwear solo
- ZFT: Buffalo
- ZFT: AAAFNRAA: 2 tracks
- ZFT: AAAFNRAAA: 1 track
- ZFT: AAAFNRAAAA: 2 tracks
- ZFT: AAAFNRAAAAAM: 1 track
- ZFT: One shot deal: 1 track
- BTB I: Anyway the wind blows (1979, 2 CDs)
- BTB III disc II: 1 track

Fall 1981 - Spring 1982

After a 9 months break touring restarted in the U.S. with a rhythm section remaining the same for the three tours to come, being Ched Wackerman on drums and Scott Thunes on bass. Guitar hero Steve Vai was present for doing "impossible" guitar parts. The Halloween show in New York got broadcasted by MTV. Various tracks are available on the Dub room special DVD/CD. Here you could see what would become problematic in Europe the next year. After years of doing audience participation routines and little lectures, for this tour Zappa chose to play just music and conduct several of the complex pieces included in the set list. Parts of the European audiences weren't responsive.
At first the tour was used for providing the tracks on three upcoming albums, that were recorded live. Otherwise these albums are mostly studio albums. On "Drowning witch" and "The man from Utopia" you can still hear the crowd noise, for the solos on "Them or us" this was mixed out. The releases from this tour were gradually becoming large when Zappa was running through his tape archive from 1987 onwards.
"As an am" is the lastly recorded bootleg from the "Beat the boot series" and an interesting one. It opens with playing cat and mouse with Zappa, quoting an interview episode about his annoyance about bootlegging. The next two numbers are of low sound quality. The first, then called "Young and monde" (later to become "Let's move to Cleveland") contains a long solo. It goes normal till halfway and then turns into weird repeated guitar figures by Zappa and Steve Vai. A bit similar to the ending of "That ol' G Minor thing again" on "Guitar", except here it's done more extravagantly. Steve Vai can undoubtedly explain how it can be done technically. The following three tracks on this CD are from the MTV concert and of good sound quality. They weren't on the official releases for long, so more or less be coincidence they were a good complement. In 2008 the ZFT released a more complete form of the MTV concert on DVD, carrying the title "The torture never stops".

Released:
- Ship arriving too late to save a drowning witch: live tracks
- The man from Utopia: live tracks
- Them or us: solo tracks
- Guitar: 16 tracks
- YCDTOSA I: 8 tracks; III: 6 tracks; IV: 7 tracks; V: disc 2; VI: 2 tracks
- The dub room special: MTV concert tracks
- The torture never stops (MTV concert DVD)
- BTB I: As an am (1981)
- BTB III disc II: 4 tracks

1984

The 1982 tour was followed by a period of two years without touring, during which Zappa spent a lot of time getting his modern orchestral and chamber music recorded and/or premiered. In July 1984 another world tour started, six months of almost uninterrupted touring with some 70 gigs scheduled. At first Zappa compiled a CD, "Does humor belong in music?" with tracks from the tour he found successful, not specifically intended for the release of new compositions. As for the 1982 tour, the output would eventually become big.
In 1987 started the big cleaning up of the archives with volume I of YCDTOSA, announced to become a six volume series. It must have been an estimation, because Zappa continued to work on the series till 1991, including tracks from the last 1988 tour. He couldn't have known what the outcome of the 1988 tour would be from the start.

Released:
- Does humor belong in music? CD (tracks from various dates)
- Does humor belong in music? DVD (At the Pier concert, New York)
- Guitar: 14 tracks
- YCDTOSA I: 3 tracks; III: 16 tracks, IV: 14 tracks, VI: 5 tracks
- Trance-fusion: 5 tracks
- Have I offended someone?: 2 tracks
- BTB III disc II: 1 tracks; VI: 11 tracks

1988

After three years of being off the road, Zappa started the preparations for another world tour during the fall of 1987. The band rehearsed for 4 months in total for a repertoire of over 100 songs. The brass section was added during the last month, bringing the bands number up to 12 people. The "Broadway the hard way" started in February 1988 in the East cost of the U.S. and the continued in Europe from April through June. At that point tensions within the band made further touring impossible. Zappa, who as usual kept a distance and didn´t socialize much, had hoped in vain that it would solve itself by itself. Besides he had problems of his own regarding his health. The whole U.S. west coast part was cancelled, leaving a huge loss.
The first CD from this tour came out rather quick at the end of 1988. Zappa spent much of 1989 selecting the best tracks for two more double CDs. Even after that not all of the tours setlist was released, leaving about a dozen songs in the closet. You can visit the 1988 setlist site for the entire program.

Released:
- Broadway the hard way
- The best band you never heard in your life
- Make a jazz noise here
- Trance-fusion: 9 tracks
- YCDTOSA IV: 2 tracks; VI: 6 tracks
- ZFT: AAAFNRAA: 1 track
- ZFT: AAAFNRAAA: 2 tracks
- ZFT: AAAFNRAAAA: 1 track
- ZFT: AAAFNRAAAAAM: 1 track
- BTB III disc II: 2 tracks

1991-1992

After the 1988 tour Zappa would do only a handful of guest appearances on stage. He did two solos in Eastern Europe in 1991 at the time the Soviet troops were leaving step by step. The cancer treatment had visibly taken its toll, with Zappa walking with some difficulty and swollen up by medication. In Prague he played a solo with the group Prazsky Vyber with Vaclav Havel present in the audience. Next he played at Tabàn, Budapest. Both occasions are on video, the Prague solo also being released on CD as an "Improvisation in A with Frank Zappa". Regrettably this "Adieu CA" CD was released in the Czechoslovakian Republic only. Zappa boasted that he hadn't forgotten how to play the guitar as one wouldn't forget how to fuck, in fact he was playing unprepared and without callouses. It doesn't show and hopefully both solos will be available more easily in the future.
In 1992 he looked better but could only comply with dates if his condition allowed him to travel on a specific day. Of the five "Yellow shark" concerts, he could only attend two of them, appearing on stage as a guest conductor. Below to the left a still from the 1991 Prague concert (from "Ein Leben wie extravaganza"); in the middle a screenshot from the Budapest solo (Hungarian TV, "Zappatest" documentary); to the right FZ conducting The Ensemble Modern (ZDF pay tv registration).